20 Vegan recipes that will make you love Veganism
Last updated date: 25-Feb-2022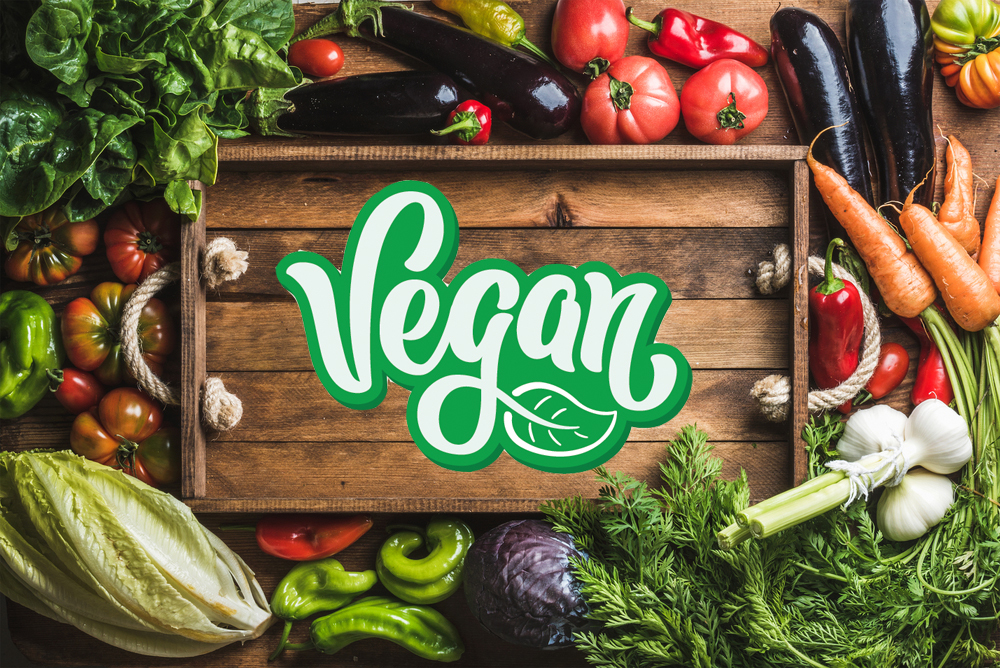 Veganism is defined by The Vegan Society as "a philosophy and a way of living" which excludes all forms of cruelty and exploitation of animals for food, clothing, and any other purpose. As a vegan, you also become an advocate for the development of animal-free alternatives to what is currently being offered. Let's look at some common unclarities regarding nomenclature and try to define them:
Vegan vs. Vegetarian & Vegan vs. Plant-Based
While eating a plant-based diet is mandatory for both vegan and vegetarian lifestyles, there are some differences worth taking note of when discussing the two terms. Firstly, one may call themselves vegan and, therefore, avoid anything that may have been processed using animal products. The fashion industry has slowly been adapting to accommodate these new parameters, by introducing vegan sneakers or vegan handbags to their collections. Some vegans may even choose to only frequent a vegan grocery store or a vegan restaurant. Secondly, as a vegetarian, your diet is mainly plant-based, but animal products such as eggs, milk, or butter are often included. Vegetarian people also may or may not wear garments produced with leather or other animal by-products.
Here are some of the frequently asked questions regarding veganism:
Is vegan gluten free?
Vegan does not necessarily mean gluten-free, but there are options out there for people with celiac disease or other gluten intolerances.
Is vegan healthy?
Although eating a plant-based diet is one of the healthiest choices you can make, there is still plenty of vegan junk food around that can mess up your health. Always be aware of the ingredients you're getting in pre-cooked meals because they may be surprisingly unhealthy.
Can vegan eat honey?
No, vegans cannot eat honey because it is an animal product. Fortunately, there are some vegan honey alternatives, such as maple syrup or agave syrup.
Is vegan dairy free?
Yes, vegan is completely dairy free.
Is vegan cheese healthy?
Yes and no, depending on its ingredients. Vegan cheese made from cashews, for example, is healthy, but other kinds can be extremely processed and made out of not-so-natural ingredients.
Can vegans eat fish?
No, vegans do not eat fish or any fish-related products.
What is the vegan and vegetarian difference?
Vegans do not consume any eggs or dairy products, while vegetarians do. Whether you're vegan or vegetarian, the common ground is not to consume meat.
What is the difference between vegan vs. pescatarian?
Vegans do not condone the consumption of fish products, while pescatarians are mostly vegetarian and fish consumers. Vegan and vegetarian diets do not include consumption of any other meat types, though.
What is the difference between a vegan versus plant based diet?
Vegan diets do not include meat at all, while plant based diets may include meats of various kinds while remaining mostly plant based.
How do I find vegan food near me?
Usually, a quick internet search will provide plenty of vegan options wherever you are in the world. Just type up "vegan near me" in your search bar and it will yield the restaurants (such as the vegan 15) around you that serve vegan food.
Vegan Meal Ideas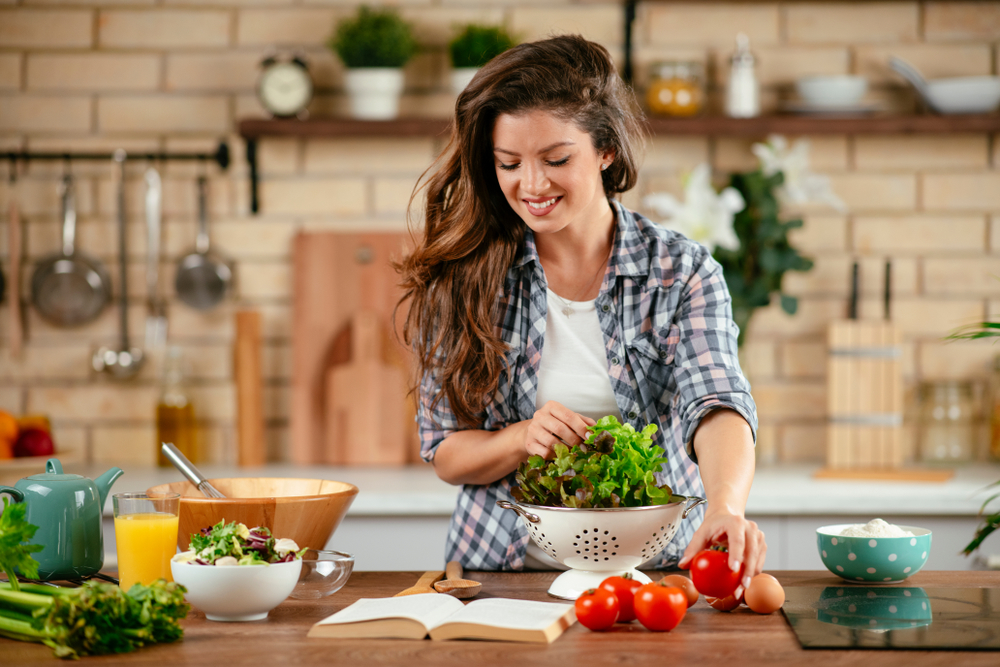 One of the main concerns when becoming vegan for beginners is whether their diets will be less varied or not. Fortunately, there are plenty of vegan meals to choose from! Vegan food can be very delicious, and we've done the research for you.
Vegan Breakfast Meals
Let's begin with some ideas for one of the most important meals of the day: breakfast.
We couldn't begin talking about breakfast or brunch without the classic omelette: a meal that many vegans miss after transitioning to a plant-only diet. One of the best ways to recreate an omelette, but without the use of eggs, is by using garbanzo beans flour! Not only is it super tasty, but this vegan keto breakfast is also gluten-free and friendly with your heart, thanks to the high levels of antioxidants found in chickpeas. Hydrated and cooked chickpea flour has a very similar taste to eggs, so by adding water and maybe some nutritional yeast, you'll be able to fry an excellent omelette in your pan in a very short amount of time. Cook this one time only and you will for sure make it a part of your daily vegan meal plan.
Shakshuka is a North African dish that uses onion, diced tomatoes, red or green bell peppers, and several spices such as fresh garlic, cumin, garlic powder, and red chili pepper flakes. To make it vegan, you will have to substitute the remaining two ingredients – eggs and cheese – with some tofu eggs (made by blending tofu with nutritional yeast) and vegan feta cheese. This way, you'll pay homage to the traditional recipe, while remaining faithful to your vegan diet.
Vegan Lunch and Dinner Ideas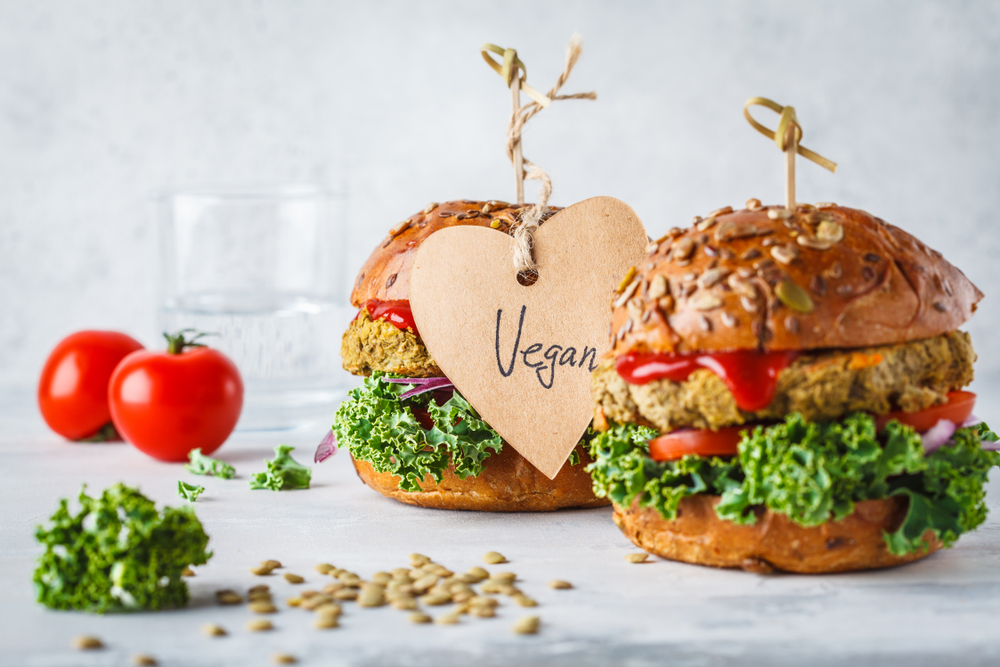 When thinking about lunch, you want it to be quick, healthy, and tasty. Here are some of our top picks:
A vegan burger is a burger constructed with vegan bread and a patty that doesn't contain meat. These patties may be cooked with ingredients like beans, nuts, grains, seeds, or mushrooms. Some of the most commonly used substitutes are the ones found in various Eurasian cuisines, which consist of ground chickpeas, ground walnuts, and other plant-derived vegan protein sources. As you can see, the vegan burger is probably one of the friendliest vegan dishes for people looking to increase the amount of protein they consume, and it's also quite delicious; top tip for perfect buns: rub some vegan butter (such as avocado butter) before grilling them to get the most flavor out them.
If you're looking for some vegan quick meals, tortilla chips and nacho cheese is definitely the right answer for you. This vegan and gluten-free sauce is super easy to make and will be loved even by non-vegans. Blend together cashews, nutritional yeast, vegetable stock, and the spices of your choice and there you have it – a perfectly cheesy sauce to dip your tortilla chips in. Is vegan cheese healthy? The definitive answer is yes! Cashews are filled to the brim with protein and they're an amazing source of vegan vitamins and minerals, such as Magnesium, Manganese, Phosphorus, Zinc, Vitamin B6, and Vitamin K.
Indian food is delicious; there is no confusion about that. Even though India is one of the friendliest countries in the world for vegetarians, things are a little bit trickier for vegans, and that is because of one food category that dominates their cuisine: dairy. Milk products are used in almost everything and it is safe to assume that there is no other country out there that relies so much on dairy as India does. Fortunately, it is still possible to cook terrific vegan Indian food – just substitute regular milk with coconut milk. Almost any type of stew or curry is going to turn out formidable and will remain vegan friendly. Serve with some vegan fried rice drizzled with vegan yum yum sauce, and you are set for the day!
Cauliflower makes a great substitute for actual wings and is much, much healthier. To help with reducing the risk of disease, cauliflower is also rich in unique plant compounds that work specifically towards that goal. What's more, it's friendly for a weight loss diet and incredibly easy to incorporate into your daily meals. Cauliflower is high in fiber, and therefore is beneficial to digestive health and may minimize the risk of a variety of chronic conditions. Top up with some vegan gravy or some vegan oyster sauce and you have the perfect healthy comfort food that is also vegan and vegetarian. If you have any cauliflower leftovers, you can always make some vegan nuggets as an appetizer.
There is nothing just as comforting and delicious as a warm bowl of tomato soup on a chilly Sunday evening. The components of a basic tomato soup are straightforward: tomatoes, onions, garlic, and basil. If you're a tomato lover, this simple combo will bring your dreams to life. Sautee the onions beforehand for depth of flavor, add some maple syrup to bring out the sweetness of the tomatoes, and if you want this vegan with a twist recipe to blow your mind, add some coconut milk to meld all the flavors together. While your delicious soup bubbles away, you can get started on making some crispy vegan sandwiches for a perfect pairing.
Another classic delicious soup you can easily turn vegan is Zuppa Toscana – Tuscan soup. This can be done by swapping a few of the elements with their vegan counterpart: instead of cow's milk, use oat milk, and instead of bacon or sausage, just add vegan sausage and some liquid smoke – the latter is going to give your soup a deep, meaty flavor. Simmer these together in a vegan chicken broth with garlic, kale, and onions and you'll have a perfectly creamy soup in just under two hours.
This vegan zucchini lasagna tastes exactly like the classic kind, but it uses no pasta, is gluten-free, and is low-carb, making it a perfect vegan keto meal. Instead of leaving you feeling sluggish, substituting pasta for zucchini will make this lunch idea fit perfectly into your vegan keto diet plan. It doesn't require too many ingredients to cook – just five! So put together sliced zucchini, tomato sauce, vegan ricotta cheese, Italian seasoning, and some vegan shredded cheese into a couple of layers, put it in the oven for 40 minutes, and there you go: zucchini lasagna! If you have any leftover zucchini, don't throw it out! Instead, make some vegan zucchini muffins and you'll be surprised at the versatility of this green vegetable.
Vegan white sauce gnocchi is decadent and creamy, but you will need to search for vegan white wine to prepare it. If you prefer making your own fresh gnocchi, this lunch idea will take a little while longer until it's done, but the results are going to satisfy your tastebuds. Since you'll be using a lot of vegan butter and other vegetable oils, we recommend saving this meal for special occasions, because the high amounts of fats make it a risky choice for people watching their cholesterol levels.
For this, you are going to need some puff pastry sheets, but the good news is the fact that you can fill these dumplings with any veggies you like – spinach (which is a very healthy green), onions, garlic, or anything else. They can even be made with gluten-free cornflour if you prefer that instead. Empanadas are perfect as a side dish to a salad or to prepare ahead of time if you'll need a takeaway meal.
Fish can be very hard to let go of, especially when you're just starting your vegan lifestyle journey. Still, if you want to enjoy a fish meal without actual meat in it, you can resort to the vegan alternatives, which are usually made with tapioca starch and are completely allergen-free. For example, vegan zeastar offers incredible vegan shrimp that you can deep fry just like the regular kind, and then dip in some vegan vodka sauce. For the latter, you'll need some vegan alcohol, so make sure to do your research and see what you can find in your area since not all vodkas are vegan.
Vegan Desserts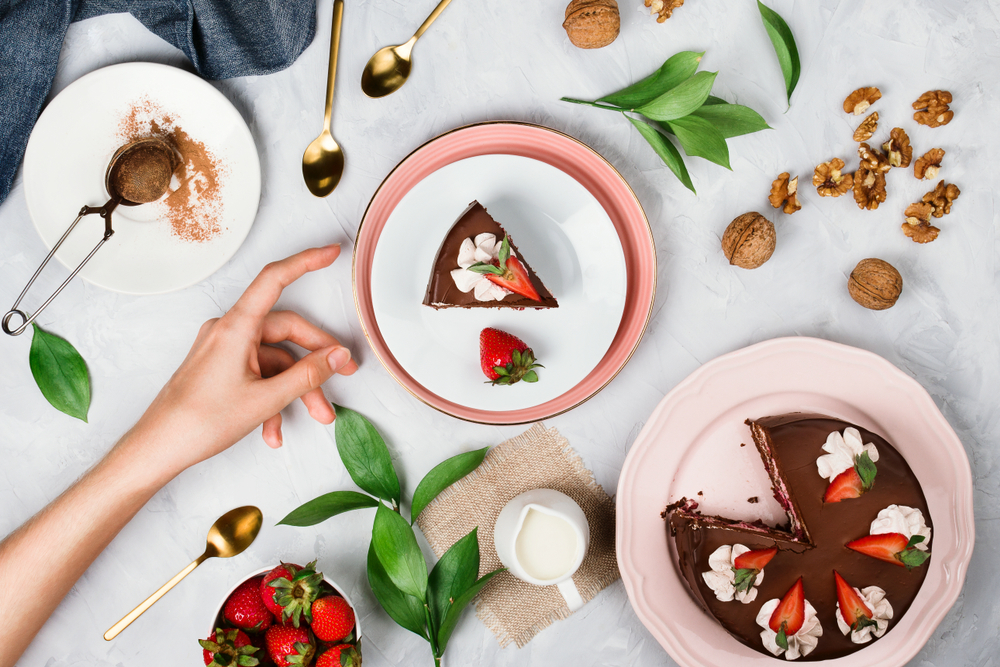 Since no lunch is complete without adding a little bit of sweetness, here are our top picks for vegan desserts to satisfy your sweet tooth. You may want to skip this part if you're following a vegan weight loss meal plan.
Who says you should be throwing out overripe bananas? Instead, you can help reduce your carbon footprint and make a delicious vegan dessert, both at the same time. Mixing in ripe bananas with flour, almond milk, baking soda, and spices of your choice (think cinnamon, sugar, a little bit of salt) will result in a delicious batter that turns into perfect golden brown banana bread after sitting in the oven for 45 minutes.
Vegan Oatmeal Raisin Cookies
This dish is truly one-of-a-kind. It also doesn't require the use of any unusual ingredients. It's possible that you already have everything you need in your fridge and pantry to prepare these vegan cookies. You'll only need one bowl to mix everything in, and a baking sheet to bake them in. Oats are the main ingredient of this dessert, followed by flour, a sprinkle of baking soda, cinnamon, and salt to taste, the almond milk will tie everything together, and raisins are super juicy and healthy: they have been shown in studies to lessen the risk of heart disease by lowering both blood pressure and blood sugar levels. Raisins' fiber helps to lower LDL (bad) cholesterol, which eases the load on your heart. Raisins are high in potassium as well.
The main fat element in vegan Brownies is oil, rather than butter. They're quick and easy, and they use real chocolate. The best thing you can use is dairy-free dark chocolate. To be considered "dark chocolate," it must contain at least 50% cocoa solids, cocoa butter, as the darker the chocolate, the more cocoa solids it will contain, while also providing the most health benefits. Flavanols, which are plant compounds that are beneficial to one's health, are abundant in cocoa. Pure cocoa has a bitter taste due to the flavan-3-ols found in cacao beans. Because cocoa flavanols are antioxidants, anti-inflammatory, and free-radical destroyers, and dark chocolate has a high cocoa content, it may help to protect your heart, reduce the risk of Type 2 Diabetes, prevent high blood pressure, and improve vision. Dark chocolate is also a great source of vegan vitamin D, which helps regulate the amount of calcium and phosphate in the body. Since the amount of vitamins in chocolate is directly proportional to the amount of pure cocoa solids, you can see why vegan white chocolate contains little to no vitamin D. Another great benefit of dark chocolate is its versatility – if you have any leftovers, just melt it and mix it up with some almond milk and coconut butter and you'll be drinking a delicious vegan hot chocolate next to your brownies.
Cinnamon rolls are absolutely delicious, but it isn't recommended you eat them more often than once every few months because they have a very high sugar and fat content. Nevertheless, if you want to make them, know that you'll need some vegan butter, instant yeast, almond milk, flour, and of course, cinnamon. Roll out the dough on a baking sheet, place it in the oven for no more than half an hour, and they are done.
Standing at 150 kcal per serving, this lemon bread melts in your mouth and won't completely set your diet off track. To prepare a vegan variation of the classic lemon bread, substitute dairy milk with the milk of your choice and plain yogurt with unsweetened almond yogurt. The rest of the ingredients are practically the same, including lemon juice, lemon zest, flour, baking soda, and sugar. You can also add as much sugar as you desire or add xylitol instead for a sugar-free version.
The Key lime is a tropical Southeast Asian citrus hybrid. It produces a spherical fruit with a diameter of 25–50 mm. The Key lime is typically harvested while still green, but when fully mature, it turns yellow. The Key lime is smaller, seedier, and has a thinner skin than the Persian lime. It also has a greater acidity, stronger scent, and higher acidity than Persian lime. If you can't find key limes in your area, you can substitute them with regular limes. The rest of the ingredients are easy to find: cashews, agave nectar, coconut milk, coconut oil, graham crackers, and some vegan butter. Remember to soak the cashews nuts for at least four hours before getting started on this recipe.
Tiramisu has always sat high in the hierarchy of desserts, and for a good reason. It's sweet, but not overwhelmingly so, chilly and refreshing. In Italian, tiramisu means "pick me up", so if you're feeling down, there is a vegan option available for you which substitutes the original mascarpone with a cream consisting of vegan butter, dairy-free yogurt, powdered sugar, vanilla, and a little bit of coconut milk. The result is an airy, fresh cream that tastes incredibly good.
If you're a big fan of apples, there are two desserts that you must try: vegan apple cake or vegan apple crumble. Both of these will bring you that warm, cozy feeling of winter evenings with your loved ones and they are also very healthy. Apples include flavonoids, which are plant compounds that have numerous health benefits. You won't get as much fiber or flavonoids from an apple if you peel it before eating it. Fiber can help you feel fuller after you eat by slowing digestion. You can avoid overeating by doing so. Eating fiber-rich foods helps manage symptoms and decreases the consequences of acid reflux. If you suffer from diarrhea or constipation, apples can help with that thanks to their high levels of fiber. Plant compounds and apple peel fiber have been shown in several tests to protect blood vessels and the heart. They may also protect your cells' DNA from oxidative damage, which is a type of damage caused by free radicals.
Conclusion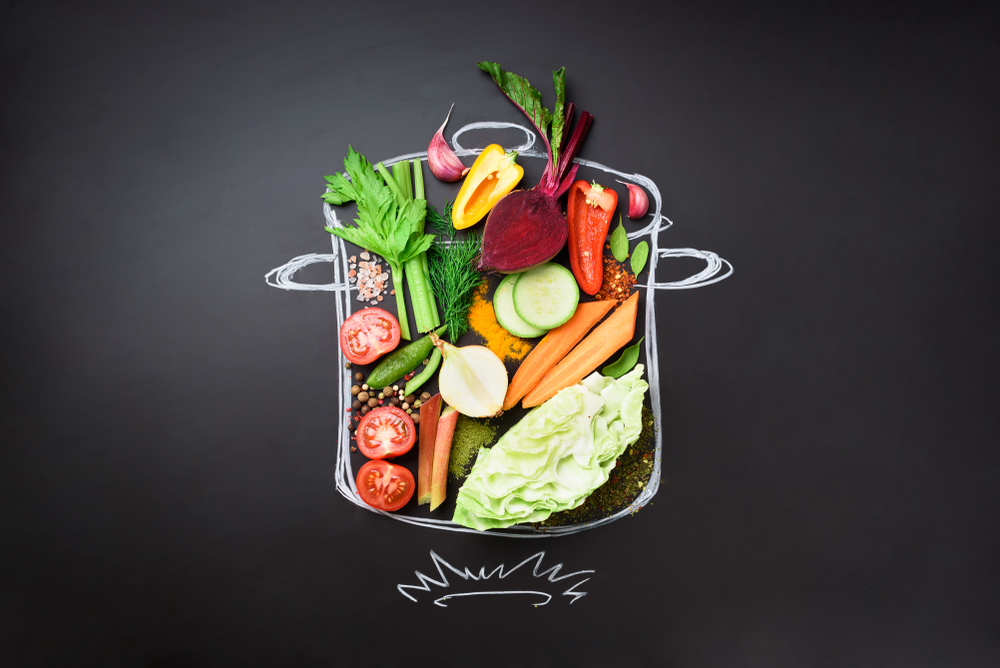 Whether you choose to go vegan for health benefits, or you want to try a vegan weight loss program, there is a multitude of choices available for you. A vegan diet doesn't have to be boring, and the more you experiment with it, the more ideas you'll get. Many foods we eat are vegan by nature, we just don't know it because of a lack of awareness. Vegan meals also don't take long to prepare, so if you're a vegan doctor going on shift, a stand-up comedian telling vegan jokes on stage, or a vegan teacher during a short school break, you will still be able to get a nutritious meal in the available time.