200 ECMO Transfer Cases at the Critical Care Center
Last updated date: 14-Jul-2021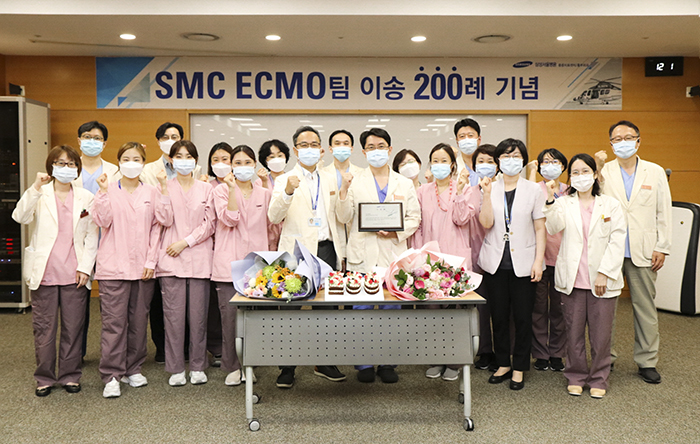 The Critical Care Center at Samsung Medical Center held a ceremony on June 17th to commemorate 200th ECMO transfer cases.
After the launch of the multidisciplinary ECMO team in 2013, the cumulative number of ECMO transfers reached 100 cases in 2017. In 2020, despite the COVID-19 pandemic, 30 cases were performed while complying with the quarantine guidelines.
The multidisciplinary ECMO team, formed in cooperation with the Department of Cardiothoracic Surgery and Critical Care Medicine, operates a one-stop response protocol from being dispatched to an out-of-hospital cardiac arrest (OHCA) patient to implementing on-scene ECMO to hospital transfer.
In particular, when transferring a patient, a professional transfer team first decides on the method of transfer through a multidisciplinary meeting, and then transfers the patient as safely as possible. The transfer team includes cardiologists, intensive care specialists, emergency medicine specialists, intensive care nurses, and perfusionist.
In addition, there is an air ambulance that is operated by the hospital. In order to transport critically ill patients in a treatment-friendly environment, the helicopter is equipped with a patient monitoring device, defibrillator, and ventilator.