Apollomedics Super Specialty Hospital, Lucknow has successfully replaced the heart valve of a 72-year-old patient using the TAVI technique.
Last updated date: 18-Jul-2021
Indraprastha Apollo Hospital
2 mins read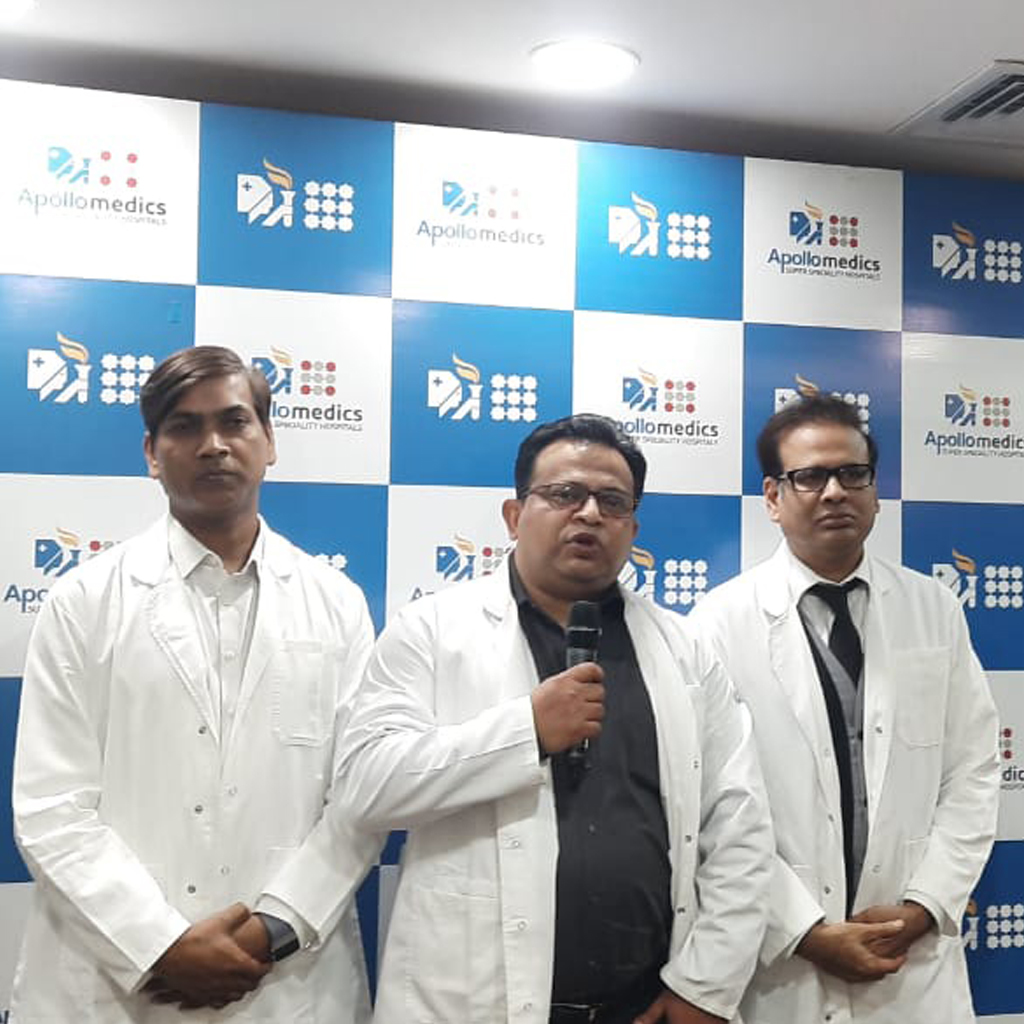 A 72-year-old patient, Mrs. Ranjana Maurya, resident of Lucknow, had Aortic Stenosis (narrowing of the aortic valve). The only solution was valve replacement surgery. She also had several health issues related to old age. Considering this, performing an open-heart surgery was very risky. The doctors of the Cardiac Surgery Department at Apollomedics Hospital, Lucknow replaced the heart valve (without any incision) by inserting a Catheter based Aortic Valve through the arteries of her leg (Femoral route) by state-of-the-art TAVI (Trans catheter Aortic Valve Implantation) technique.
Dr. Vijayant Devenraj, Senior Cardiac Surgeon, CTVS Heart Surgery Department, Apollomedics Hospital, Lucknow said, "Mrs. Ranjana Maurya came to the hospital with complaints of multiple attacks of syncope. Investigations revealed that her aortic valve had severe stenosis, causing syncope (fainting with dizziness). She was very old and had several health issues, due to which performing an open heart surgery was a risky process. Thus, on reviewing her situation we decided to do TAVI (Trans Catheter Aortic Valve Implantation) . It is a complex but safe procedure in which the surgery of the patient is done through the arteries of the leg without making any incision. These kinds of surgeries are only performed in a few selected hospitals in India. The patient was discharged in a healthy state after the surgery."
MD & CEO at Apollomedics Hospital, Lucknow, Dr. Mayank Somani said, "Apollomedics Hospital, Lucknow is setting new benchmarks every day in the field of healthcare in Uttar Pradesh. Due to the COVID 19 epidemic, getting treatment in cities like Delhi, Mumbai has become a big challenge. So, it is our endeavour to provide world class health services to people so that people do not have to travel far for good treatment. I congratulate Dr. Vijayant Devenraj and his team on successfully performing this complex surgery and I assure that Apollomedics Hospital will continue to provide excellent treatment facilities to one and all."