Cancer Diagnosis and Treatment Abroad
Last updated date: 03-Jun-2022
Cancer
Cancer Diagnosis
Cancer Treatments Abroad
General Health

Cancer is generally a broad term. In the current century, cancer is the most chronic and life-threatening disease affecting many people. Statistics also show that it is the leading cause of death in most countries.
Cancer refers to a group of diseases that involves the growth and development of abnormal cells. With time, these cells uncontrollably multiply and spread, causing damages to the body organs and the immune system. Luckily, cancer treatment abroad can help address these conditions.
Causes of cancer
According to the World Health Organization (WHO) the main causes of cancer are related to a passive lifestyle that includes a high consumption of alcohol, unhealthy or low fruits and vegetables diets, use of tobacco or lack of physical activities.
Unfortunately, 90% of cancer mortality is related to advanced metastatis disease as about 45 - 46% of patients are diagnosed of cancers only when they are already at stage 3 or 4.
Places to Treat Cancer Abroad
Many countries provide cancer treatment services. However, the country you choose should be able to offer the best treatment while utilizing advanced equipment. Furthermore, doctors should be guided by evidence-based medicine.
CloudHospital medical team recommends clinics in various countries, including;
Korea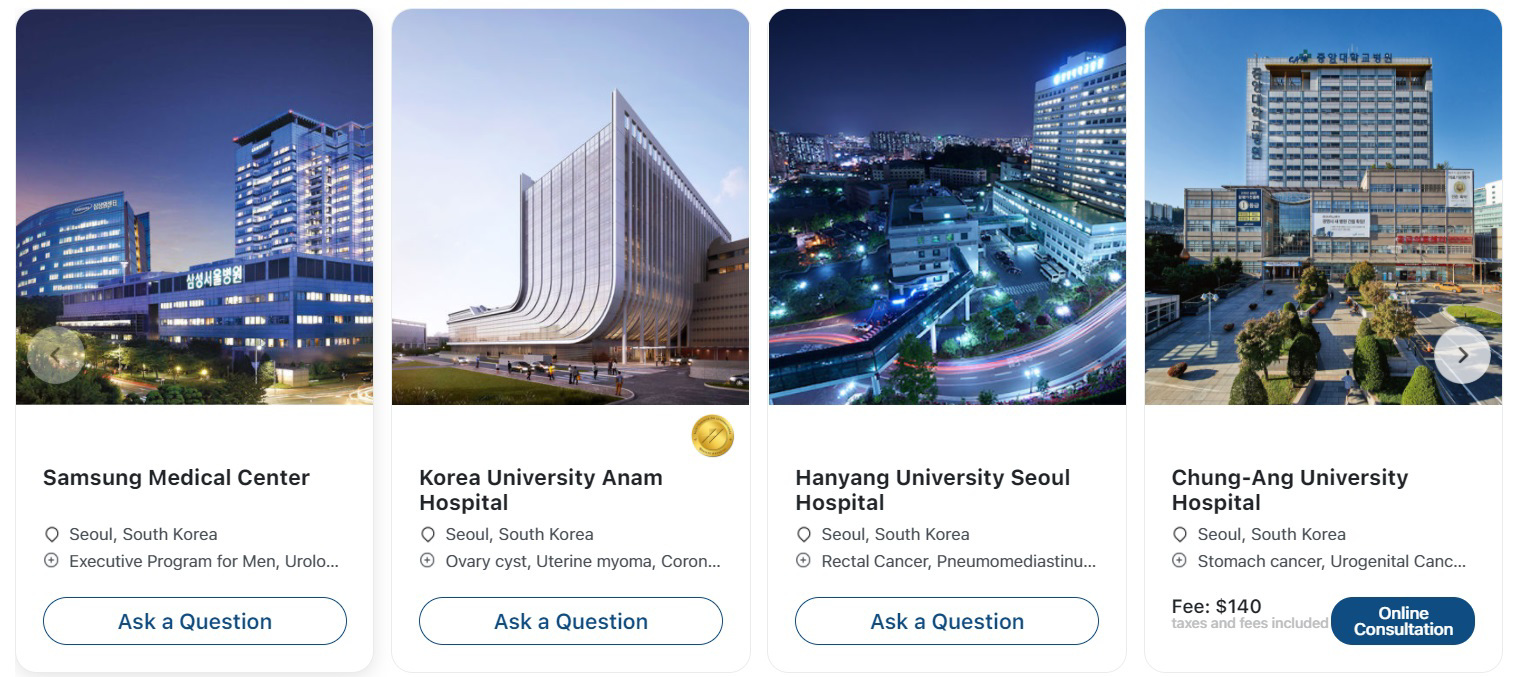 Korea is an advanced and well-developed country which is located in Asia. It's also one of the leading nations with the best clinics that offer cancer treatment while utilizing state-of-the-art equipment.
The high standards of life in South Korea play a major role in the expectations in terms of national medical services provided. The healthcare market is fulfilled with some of the world's most specialized and experienced doctors. In terms of cancer treatments, the South Korean specialists are constantly improving the treatments and procedures that patients get. Each year, the 5 year survival rates are increasing. In South Korea, the overall 5 year survival rate, for both men and women combined, has been recorded at 70.4%, during the 2013-2017 period, without taking into consideration the thyroid cancer, which has a 5 year survival rate of 100.1%, according to the Korean Cancer Association.
Due to this, most of the patients opt for cancer treatment in Korea. Apart from the treatment services, you also get advanced medicinal drugs and therapy services. Here, cancer treatment is done with the aid of radiotherapy machines and several linear accelerators.
Israel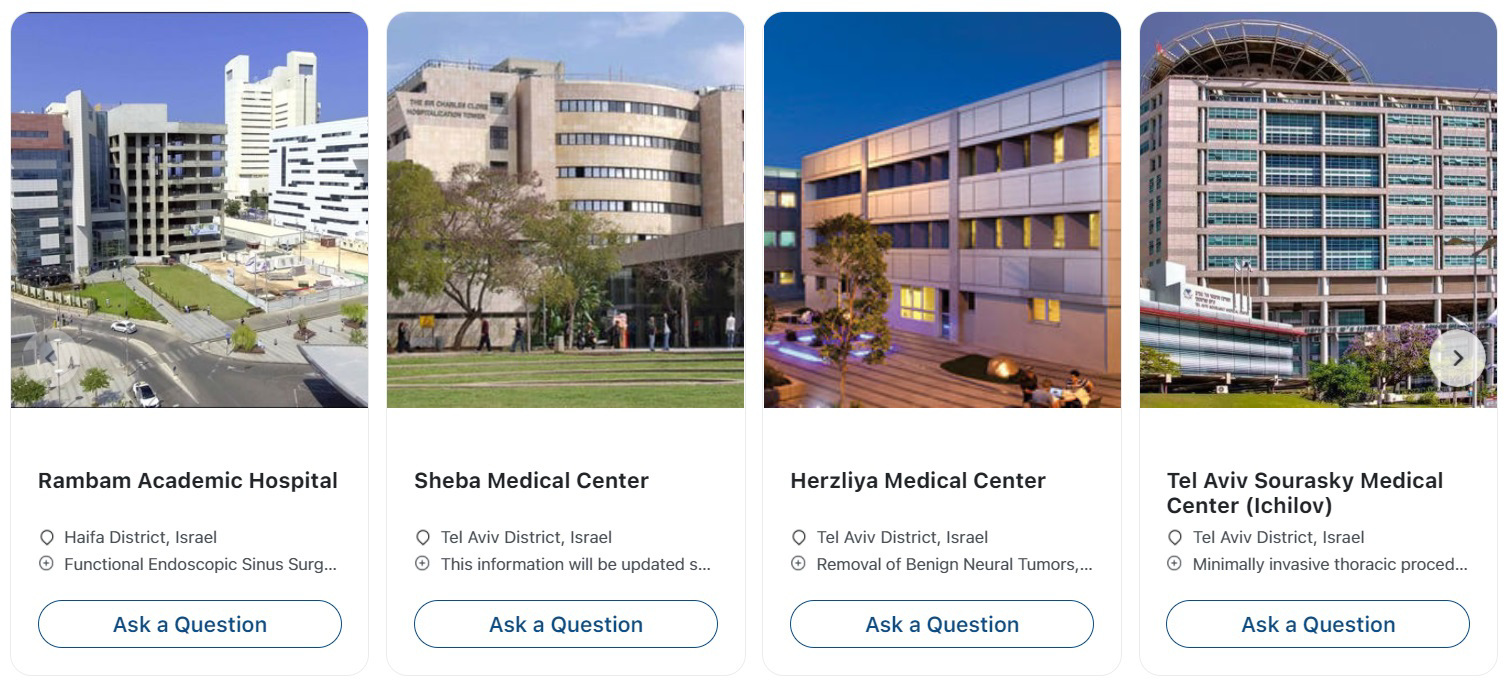 Israel is another top country offering cancer treatment services. For cancer treatment in Israel, CloudHospital recommends the best clinics such as the Rambam academic hospital, Sourasky Medical Center or Sheba medical center.
Israel's healthcare market includes some of the most prestigious hospitals and clinics worldwide, where patients from all over the world come to get treated for various diseases, including cancers or to get different procedures, as the level of quality is very high and the prices are lower than in other developed countries.
In terms of cancers, these clinics treat all types of tumors. They also have large diagnostic departments and offer therapy services on all types and stages of cancer.
The prestige of the Israeli hospitals and clinics is also based on the levels of specialization and experience of its doctors. Among the Israeli healthcare services providers, there are facilities whose medical teams include Nobel Prize laureates, who are continuously pushing the research and development of new treatments and drugs to reach as much as possible of the patients' medical needs.
Specialists in these facilities usually work together to ensure that you get the best care and treatment. For instance, when handling a condition like melanoma, you will also find other specialists like oncologists, dermatologists, immunologists, and other support staff all working together, in order to improve the patient's overall state of health.
Moreover, Israeli researchers are unceasingly competing themselves in order to find the newest and most efficient treatments and drugs for different diseases, focusing on cancers.
Germany
Germany has a wide range of cancer treatment facilities and clinics. The overall cancer treatment in Germany is much affordable, and this does not compromise the treatment quality the patient receives.
As Germany is known for excelling in sciences, it has also been ranked as one of the top nations that provide cancer treatments. This is because of the revolutionary procedures and unique form of treatment.
Most of the treatment services prohibited in other nations are offered in Germany. On the other hand, the doctors are well trained and take into consideration all the forms of treatment and other significant alternatives.
Therefore, if you are looking for cancer treatment abroad, you may want to consider Germany due to its success 10 years success rates. Some examples of the results of the German medical specialists achieve success rates that range from 85,5% thyroid cancer, 87,5% prostate cancer and 78,5% breast to 21,1% nervous system cancer.
Turkey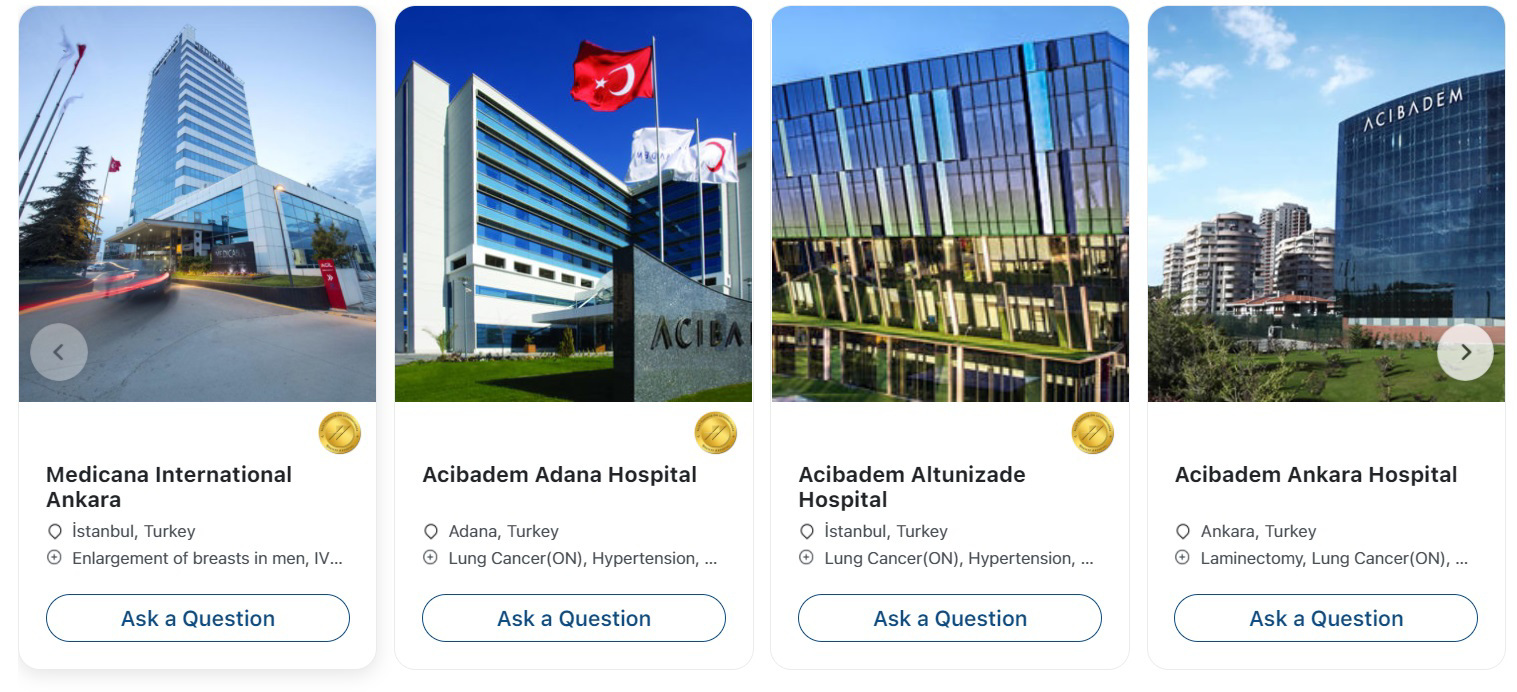 Today, healthcare services in Turkey have gained popularity among cancer patients. This is because of the affordable rates and top quality treatment procedures.
Cancer treatment in Turkey involves a medical team that utilizes chemotherapy, radiotherapy, and other surgical treatment options to cure cancer. The departments are also equipped with an advanced linear accelerator and modulated intensity IMRT.
This equipment enables an individual to choose and make adjustments to the radiation dose. Furthermore, it protects the body against any harm while effectively treating cancer. These IMRT can as well be used to irradiate the tumors or cancerous cells in children.
The surgical treatment is done using the minimally invasive technique. These are robot equipment that enables the doctors to effectively conduct operations with accuracy. It also helps minimize risks such as blood vessels or nerve damage.
Beside the fact that Turkish medical facilities are modern and well equipped and their teams are composed of well trained specialists, the cancer treatments provided here are among those that have the highest price per quality ratios.
Furthermore, as distance plays an important role in the process of choosing the place to get treated at, Turkey is a popular destination for cancer treatments for international patients, due to its strategically geographical position. Istanbul's International Airport is close to Europe, Middle East and the rest of Asia, but it is also the place of connection between worldwide flights.
India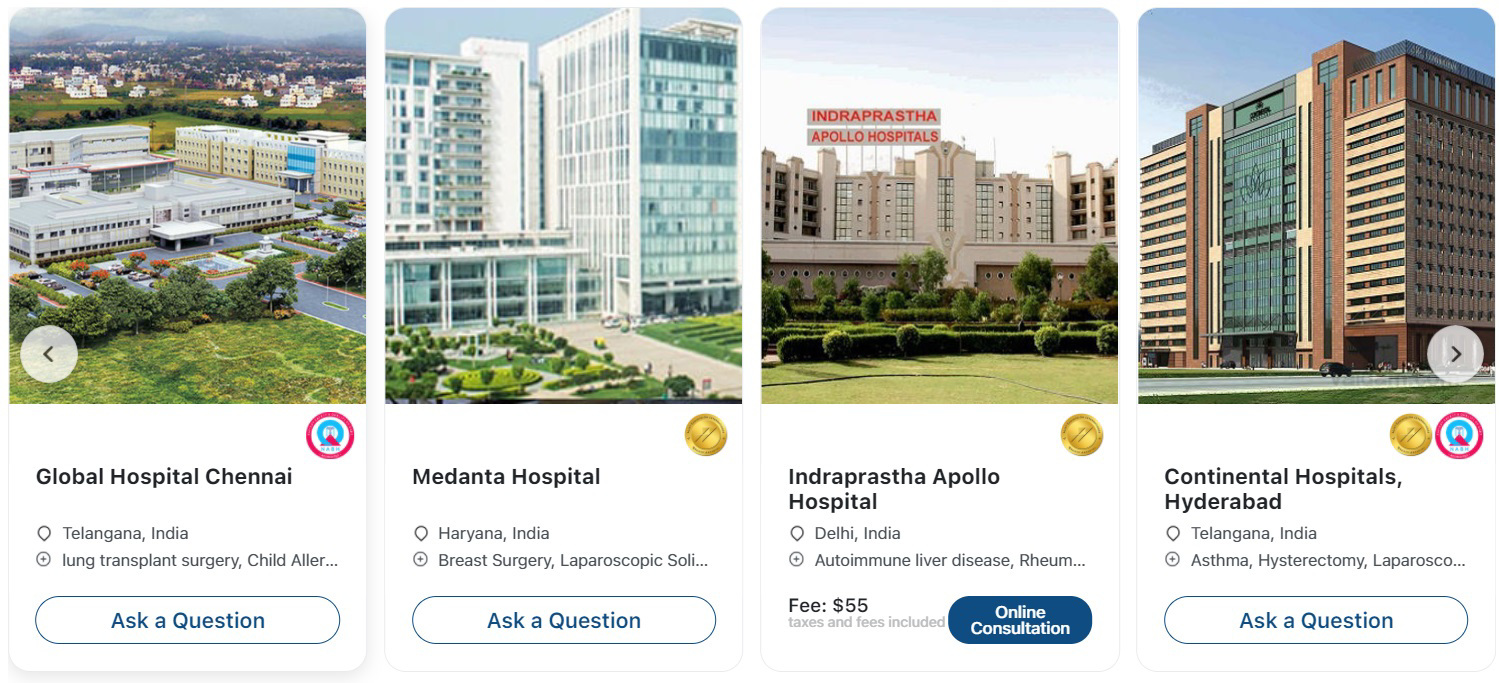 India is a developed country with many health clinics that offer cancer treatment. The facilities are equipped with modern medical equipment and technologies. This helps diagnose, treat cancer, and conduct chemotherapy services, year by year, for numerous domestic and international patients.
The Indian healthcare market is very consolidated. The medical services offered to patients by its providers are of high quality. In terms of cancer treatments, the ones available in India do include:
Surgery to extract tumors
Immunotherapy to strengthen the cancer-fighting defense mechanism in the body
Radiation therapy to destroy the cancerous cells and reduce tumors
Hormone therapy to destroy the prostate and breast cancer cells
Targeted therapy; treatment to kill the cancer cells that develop and spread
Stem cell transplants; treatments to restore the blood-producing stem cells
The high standards of these medical services led to the largest players of the Indian healthcare market expanding their medical services network abroad, in countries such as the U.A.E.
Malaysia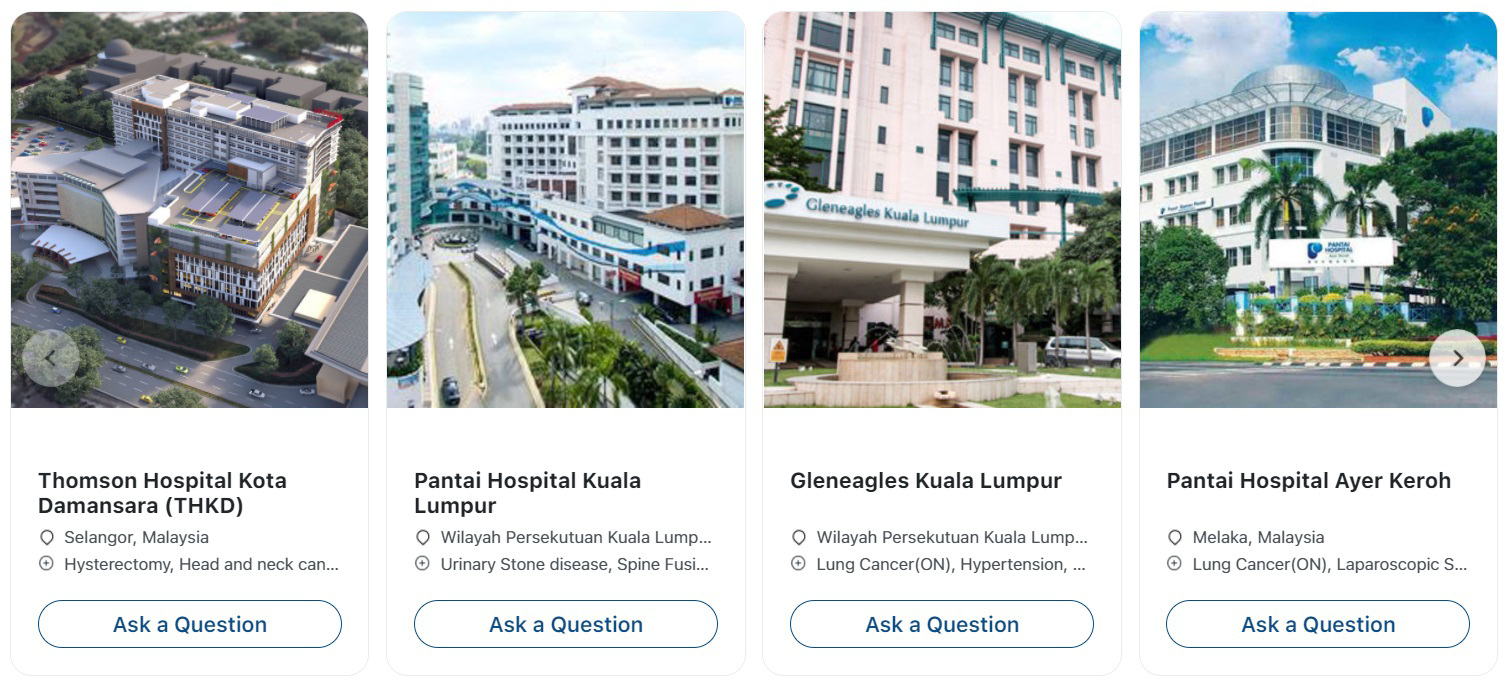 With the modern technologies used in Malaysia to treat cancer, there is no doubt that final results will turn out positive. Furthermore, the health clinics in Malaysia never run short of imaging and cancer diagnosing equipment.
If you are looking for cancer screening services, then Malaysia is the best place to travel to. Depending on the clinic, there are different types of CT scanners, linear accelerator equipment, endoscopes, MRI, and PET scanners.
Cancer treatment in Malaysia also involves the use of state of the art tools such as Da Vinci robotic surgical system and Gamma Knife radiosurgery.
Singapore
Singapore is the most popular and well-known destination for cancer treatment. As compared to the European health centers, the rates for cancer treatment in Singapore are more affordable.
For cancer treatment, CloudHospital recommends Thomson medical center. It specializes in different cancer treatment approaches such as immunotherapy, minimally invasive surgery, medical, and radiation.
Spain
The Spanish medical system is providing some of the most effective cancer treatments as its medical system is considered to be one of the world's most prestigious. The state of the art facilities benefit of the latest pieces of medical equipment and the medical personnel is specialized in treating various types of cancers, as they are some of the world's most experienced and doctors.

Health clinics in Spain specialize in various forms of cancer treatment that helps enhance the body cells. They provide various forms of treatment, including the minimally invasive operation to remove the tumors and prevent cancer cells' growth.
Cancer treatment in Spain also involves non-surgical treatment options where local radiotherapy (brachytherapy) is used. These clinics have managed to treat and cure many patients without amputating the affected body part for the past few years.
As there are many clinics and hospitals in Spain that are focused on treating cancers, the standards of the treatments are very high and they led to an ongoing competition between local medical facilities and their teams in terms of treating all types of cancers and developing other new treatments, in order to obtain the highest survival rates as possible. The statistics related to the success of the medical services and procedures provided in Spanish medical facilities are supporting the decision of all the international patients that come here annually to get treated. Many of the complex procedures, such as removing brain tumors, for example, have great chances of success when performed by the Spanish specialists.
Thailand
Today, it has become possible and easy for health clinics in Thailand to give their patients a chance to recover from cancer. This is with the help of modern technology and knowledge in the medical field.
Cancer treatment in Thailand has come a long way. Thanks to the increased research and improvement in accessibility to various treatment options, including immunotherapies.
The doctors working here have skills and experience in detecting and treating various types of cancer. They also use modern technological tools to ensure that you get the best care and a successful recovery process.
U.A.E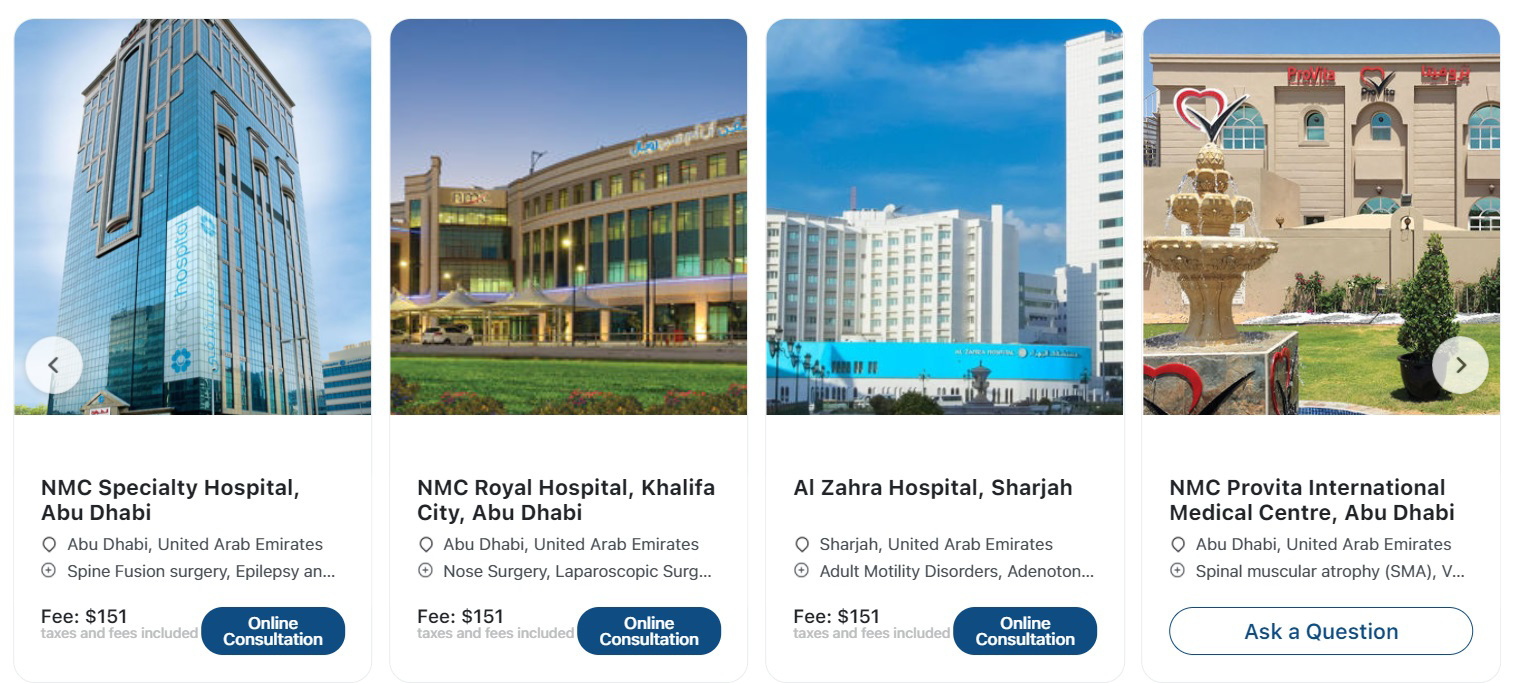 U.A.E care centers are dedicated and committed to providing high-quality cancer care and treatment. This is achieved by opting for the unique multispecialty approach as well as the advanced equipment.
Cancer treatment in U.A.E involves a full spectrum of diagnosis and medical and surgical management of the condition. Other services offered include surgical procedures, radiation, and medical care.
As the U.A.E. has become a medical hub and a hot point in terms of medical tourism, treating cancers here is very attractive for the international patients as the treatments and procedures they get here are performed by internationally trained doctors at high standards, including American standards. Despite the originary nationality of the medical facilities, most of them strive to perform the best services they could in order to serve the patients. Many of the U.A.E.'s hospitals are JCI (Joint Commission International) accredited.
USA
In terms of medical services, the USA provides the best health care and cancer treatment while using all the modern equipment. Its hospitals are the most prestigious in the world and the American doctors are setting the worldwide standards in medicine. Most hospitals have the accreditation and certificates to ensure that they provide treatment with the currently available protocols. Most important certificates and accreditations that hospitals from all around the globe aspire to get are American.
Cancer treatment in USA utilizes sophisticated technologies and equipment to help fight cancer. Furthermore, they combine these with supportive care services to reduce side effects and enhance life quality.
The best cancer hospital in the world is located in the USA, the University of Texas MD Anderson Cancer Center and it is a reference for cancer treatments worldwide. This hospital has the highest standards in terms of cancer treatments and while few hospitals have already obtained accreditation from MD Anderson Cancer Center, many others struggle to reach the level for accreditation.
This hospital's researchers have developed a new type of immunotherapy, CAR NK cell therapy, which increases the capacity of natural killer cells to identify and destroy cancer cells. The same researchers have found out that in order to reduce the risk of death by 29% for young women diagonosed with breast cancer, it is best to add targeted therapy ribociclib to standard hormone treatments.
Additionally, another study conducted by the researchers of the University of Texas MD Anderson Cancer Center has found out that the key element that makes the difference between pancreatic cancer patients who live on a long term and those who do not live is based on the bacteria found on their tumors and in their digestive tracts, as the predictability of pancreatic cancer is based on the presence of more layers of bacteria on the affected organ.
Furthermore, MD Anderson researchers have created a new drug called Erdafitinib that has the ability to turn off the mutations that are correlated to the rapid growth of the tumor cells of patients suffering from bladder cancer.
These are just some of the milestones that the MD Anderson Cancer Center has reached. All these stepping stones have a powerful and positive impact in the fight with cancer worldwide as methods, treatments and experience of this hospital are being copied and transferred into hospitals all over the world, in order for more cancer patients to improve their health states and prolong their lives.
Cancer Anatomy
Basically, there are two main types of cancers that can affect people of all ages. It includes malignant tumors and benign tumors.
Benign tumors;
These are cell growths that have similar genetic material as the rest of the body. The benign tumors do not always form metastases and are incapable of invading and damaging the surrounding tissues. However, benign tumors can be life-threatening if the growth exerts too much pressure on the significant organs, resulting in severe bleeding.
Malignant tumors;
These are cell growths that have altered genetic material. This means that the body can't control them; hence they grow and multiply uncontrollably. With time, the malignant tumors grow, invade the healthy tissues and damages or kill them. These cells can also travel via the bloodstream to various body parts and form metastases, hence damaging the surrounding tissues.
Types of Cancers Treated Abroad
Anal cancer
Adrenal cancer
Bone cancer
Bile duct cancer
Brain cancer
Breast cancer
Cervical cancer
Central nervous system cancer
Colorectal cancer
Colon cancer
Esophageal cancer
Endometrial cancer
Sarcoma
Eye cancer
Head and neck cancer
Gall bladder cancer
Lymphoma
Kidney or renal cancer
Laryngeal cancer
Leukemia
Lung cancer
Liver cancer
Multiple myeloma
Ovarian cancer
Oral cancer
Pancreatic cancer
Pituitary cancer
Penile cancer
Prostate cancer
Rectal cancer
Skin cancer
Salivary gland cancer
Stomach cancer
Throat cancer
Testicular cancer
Thyroid cancer
Thymus cancer
Urethral cancer
Uterine cancer
Vulvar cancer
Vaginal cancer
Factors to Consider When Seeking Cancer Treatment Abroad
Any cancer patient's main objective is to find a good medical facility and have a successful recovery. So to ensure that you get this, you need to consider factors such as;
It's vital to consider the primary expertise of the hospital department, including the duration of practice. This is because some clinics are best in treating certain types of cancer as compared to other clinics.
Availability of the state of the art technologies:
This factor should apply to all types of cancer. Looking for a hospital with modern development and more advanced equipment is highly important. Moreover, it would help if you were keen when it comes to diagnostic strategy and quality.
Most of the patients usually seek help from a specific doctor rather than randomly visiting a certain hospital. So before choosing a doctor to handle your health situation, you should first check on the following;
Working experience

Skills, knowledge, and specialty

The techniques used to treat cancer
The country's climate and features:
Although this factor may seem less significant, it may be helpful in one way or another. The first reason is that certain climatic conditions can make the treatment of a certain type of cancer a bit complicated. For instance, if you have melanoma cancer and the current climate is hot or warm, you can consider going to Spain or Israel for treatment.
The second reason is that several countries have conducive rehab facilities as well as resorts. This will make your stay in a foreign country easier. You will also be able to join and take part in the rehabilitation treatment.
Cancer Treatment Options Abroad
Health care facilities abroad offer a wide range of treatment alternatives for cancer patients. The treatment option can vary from one patient to another, depending on various factors. It includes the type of cancers, the stage, overall health state, as well as preference. To determine the best option, you and your medical provider should work together and weigh both the advantages and risks associated with each treatment.
The common cancer treatment options abroad include;
Chemotherapy
Chemotherapy uses certain drugs to prevent cancer from spreading to other parts of the body. It also slows down growth and kills the cancerous cells. Basically, there are more than 100 forms of chemotherapy drugs. Therefore, your medical provider will help you choose a suitable one according to cancer type and stage.
Chemotherapy is administered in the form of pills or capsules, injection, cream rubbed onto your skin, or through IV.
Radiation therapy
Radiation therapy is a treatment procedure that uses high energy beams, including x-rays or protons, to destroy the cancerous cells. It damages and destroys the cancerous cells in one particular part of the body rather than the whole body. The radiation energy can either originate from a machine known as external beam radiation or brachytherapy.
External beam radiation therapy involves an outside machine that directs the radiation beam to the cancerous cells within the body. It can either kill the cancer cells or shrink the tumors before extractions.
On the other hand, brachytherapy involves placing implants (capsule size) inside the affected part of the body. The radiation beams will destroy cancer cells in that particular area.
Minimally invasive surgery
Minimally invasive surgery is a procedure to remove tumors, as well as the lymph nodes and tissues if necessary. It involves creating small cuts and inserting a tube attached to a camera and light to view the inside parts of the body. Minimally invasive surgery is typically a safe procedure that involves a shorter recovery period and less bleeding.
Open surgical procedures
Open surgery is a suitable alternative for treating solid tumors but not a type of cancer that has spread or advanced. It involves making a large cut in the skin using a scalpel or any sharp object to extract the tumors. During the procedure, the surgeon can also remove the surrounding tissues and lymph nodes to further diagnose cancer cells.
Stem cell transplant
Stem cell transplant is also referred to as the bone marrow transplant. The bone marrow is a content inside the bones that produces blood cells using blood stem cells. The primary blood cells include white blood cells, red blood cells, and platelets.
Stem cell transplant involves replacing the damaged bone marrow cells with healthy ones from the donor or your own body. This procedure treats different types of cancers, including leukemia, lymphoma, or myeloma.
Targeted therapy
Targeted therapy is a treatment procedure that doctors often use alongside other treatment options. It uses strong medicine and targets the abnormalities in the cancer cells that enable them to grow, multiply, and invade other body parts.
Targeted medicines are used to prevent the blood vessels from growing within the cancerous cells. They can also alter the signals that trigger the cells to grow. Furthermore, targeted drugs impact the immune system to kill the cancer cells or change the proteins to kill them.
Hormone therapy (endocrine therapy)
Hormone therapy is a treatment procedure that targets cancer cells using hormones to grow and spread. Hormonal therapy is divided into two main categories;
A therapy option that prevents the body from producing hormones, and
A therapy that hinders the hormones from functioning as they should.
Doctors can administer hormone therapy treatment in the form of pills or shots. At times, a surgical procedure might be necessary to extract the organ producing hormones such as testicles or ovaries.
Hormone therapy helps destroy the cancerous cells that have invaded other body parts and minimize cancer recurrence chances. It can also be used alongside other treatment procedures to shrink the tumors before the surgical procedure.
Immunotherapy
Immunotherapy is a type of biological therapy that uses the body's defense mechanism to fight off cancer. It can boost the immune system or enable the mechanism to identify the cancerous cells and destroy them.
It's usually administered in various ways, including;
Orally through the mouth
Into the vein through IV
Via a catheter into the bloodstream
Rubbing the cream on the skin
Immunotherapy is further categorized into the following;
Cancer vaccines: This involves vaccination to enable the immune system to resist and attack the cancer cells. Cancer vaccines also help prevent particular types of cancers from developing.
Immune checkpoint inhibitors: These drugs help take the brakes off the body's immune system. This is to enable it to identify and fight cancer cells.
Monoclonal antibodies: These are drugs manufactured in the laboratory to function as the natural antibodies in your body. They easily identify the cancerous cells and mark them for the immune system to attack and fight off. Monoclonal antibodies can also be administered during radiation therapy and chemotherapy treatment.
Gene therapy
Gene therapy is a cancer treatment option that uses a special carrier, particularly a virus. It exposes DNA or RNA into the living cells. Gene therapy is conducted by removing a few cells from your body and exposing them to genetic components in the laboratory. Alternatively, the doctor can directly administer the carrier into the body system.
The changed or altered cells can help the body in various ways such as;
Destroying the cancerous cells
Slowing down the growth and spread of the cells
Boosting the healthy cells to fight the cancer
Cancer Treatment Approaches
Medical specialists abroad use various approaches to treat and manage cancer. This is usually based on the type, stage, treatment form, and treatment objectives. Check out how cancer treatment abroad is applied in different situations;
Primary treatment:
Primary treatment aims at removing cancer from the body completely or destroying all the cancerous cells. Doctors can use any type of cancer treatment as the primary treatment. However, the prevalent primary treatment for various cancers is surgery. For instance, the type of cancer you are suffering from is sensitive to chemotherapy or radiotherapy. In such a situation, the doctor can administer one of these therapies as the primary treatment.
Clinical trials:
Clinical trials refer to studies done to determine new methods of treating cancers, alternative medication, and better procedures. Doctors abroad often opt for clinical trials to find new effective treatment options for different cancers. It can be vaccines, dietary supplements, dietary choices, drugs, or medical equipment.
Palliative care:
The key objective of palliative treatment or care is to ease the side effects of cancer treatment. It also helps reduce the chronic signs and symptoms that result due to the disease. Doctors can either recommend a surgical procedure, hormone therapy, radiation therapy, or chemotherapy to relieve these signs and symptoms.
Medications can also help alleviate symptoms like pain, inflammation, nausea, or shortness of breath. Besides, palliative treatment can be used alongside other forms of treatment designed to treat cancer.
Adjuvant treatment:
Adjuvant therapy aims at destroying the tumors or cancerous cells that remain following the primary treatment. This helps reduce the possibility of that particular type of cancer from recurring in the future.
Doctors often use any form of cancer treatment as adjuvant therapy. However, radiation therapy, hormone therapy, and chemotherapy are the most common adjuvant treatment.
Precision medicine (personalized medicine):
Precision medicine is the developing approach for treating and preventing cancers based on the patient's genes, lifestyle, and environment. It enables medical providers as well as researchers to accurately tell or predict the treatment or preventive strategy for a certain type of cancer that could work for a particular group of patients.
This is on the contrary to the one-drug-fits-all method. It's where the strategies of cancer treatment and prevention are designed for the average patient. This is without considering the differences between other patients.
Conclusion
Cancer is one of the deadliest diseases in the world. It's a condition that affects the immune system and its functions. Generally, there are countless types of cancer, and most of them can cause death if not diagnosed and treated on time.
As the old saying goes "prevention is better than the cure" in order to prevent a cancer diagnosis, it is best to keep a healthy lifestyle that includes physical activities and a healthy diet, while restricting the usage of tobacco and lowering alcohol consumption.
In the unfortunate case of being diagnosed with cancer, the best chances to obtain greater survival rates are in the fortunate case of being diagnosed within the debut of the illness, while in stage 1 preferably.
As people are different and as medical tourism is becoming easier to practice based on the help provided by professionals, such as CloudHospital, patients all over the world realize that each country's healthcare system differs and they can get better treatments and greater chances of survival by travelling abroad.
In order to obtain the best results, patients should choose to travel to the country, respectively hospital where they find the best treatments suitable for their personal needs. As in the process of choosing the destination where patients can treat their disease needs a lot of corroboration and experience, it is very important that in this process, patients have an experienced partner, such as CloudHospital, that can seek for tailor made medical trips, in order obtain the best outcomes of it. Additionally, an advantage of having a team of professionals to help book the medical trip is the fact that beside the best outcomes of the treatments, patients also get the best value per quality ratio.
Therefore, if you are suffering from any type of cancer, you can consider seeking treatment abroad. At CloudHospital, the doctors recommend you to the top nations abroad, offering the best treatment, diagnosis, and quality care.