Healthcare issues in African nations
Last updated date: 07-Oct-2021
African Nations
CloudHospital
General Health
Healthcare
A general overview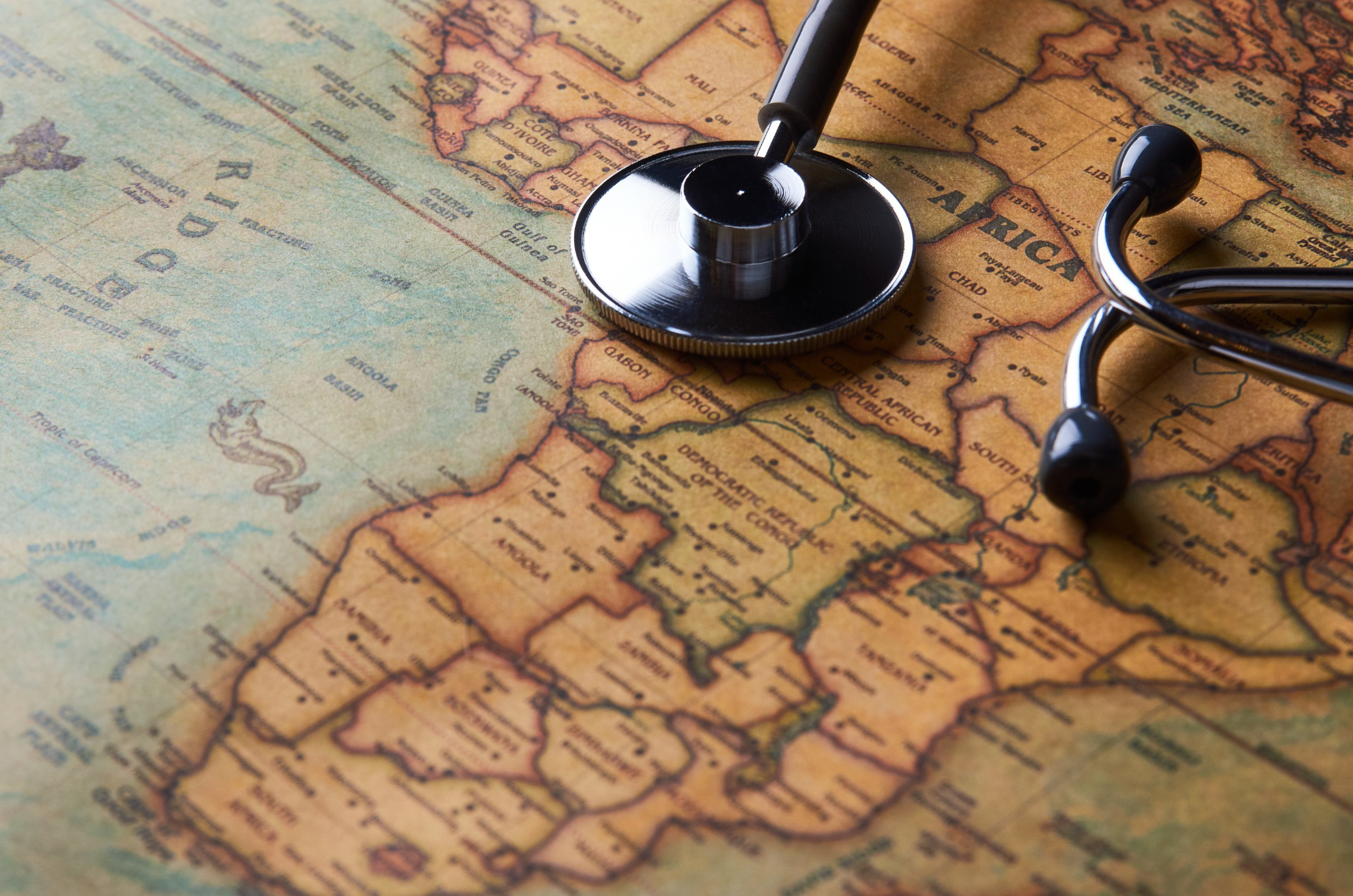 Africa is the world's second largest and second-most populous continent with a population of 1.2 billion (2016) and covering a land area of 30 km2. Africa's average population is the youngest amongst all the continents with a median age of about 20.
According to a statistical study of the World Health Organisation, 42% of Africa's population is under 15 years old, the vast majority of 53% are people aged between 15-60 years old and only 5% are older than 60.
Despite having a wide range of natural resources, the continent is the least wealthy per capita in the world. There are many structural reasons why the continent is suffering from such low life expectancies relative to the rest of the world. Some of those reasons are lack of proper infrastructure (water, sewage, etc.), lack of well-equipped hospitals, pollution, and access to basic medicine. As reported by WHO in The African Regional Health Report: The Health of the People, the only way Africa is able to move forward is by strengthening its health system.
Life expectancy at birth in sub-Saharan Africa was 63.9 years as of 2017, but healthy life expectancy was only 55.2 years, which means that 13.6% of years of life in the region is spent in poor health as Africa is facing one of the most dramatic healthcare crisis worldwide. But facts must be put in perspective and when looking at the bigger picture, the healthy life expectancy has been increasing in Africa, from 50.9 years to 53.8 years between 2012 and 2015, and in 2017 it was 55.2 years as reported above which represents the highest increase in any WHO region. Moreover, the gap in healthy life expectancy between the best and worst-performing African countries has reduced from 27.5 to 22 years, although this still shows the high prevalence of inequities, with healthy life highest in countries with better economies.
The African Healthcare Systems
Sub-saharan Africa has 11% of the world's population and 25% of the disease burden overall, but only 1% of the global healthcare expenditure. African health systems are currently underfunded, overstretched, and understaffed. For example, Nigeria, one of Africa's richest countries, spends only 4,6% of its national income on healthcare. As a result, in 2015 there were approximately 40,000 Nigerians traveling to India as medical tourists seeking medical care procedures, such as joint replacements, organ transplants, or dental surgeries.
Good health is a precondition for development, and it is becoming clear that achievement of this goal does not rely on the health sector alone; as it rather depends on environmental, social, infrastructural, and regulatory systems. Therefore, improving access to and equity within health systems will require interventions from multiple sectors. It will also mean engaging the cooperation and participation of all stakeholders, including national and provincial governments, the private sector, and local communities. The international community and regional development institutions also have a role to play in assisting to build the capacity of national health systems, as well as in mobilizing financial support.
The vast majority of African people, especially the poor and those from middle-income families, rely on these under-funded public health facilities while only a small minority has access to well-funded, quality private health care. As a result, in 2001, African countries agreed to allocate at least 15% of their budgets to health care. Yet 15 years later in 2015, only six (Botswana, Burkina Faso, Malawi, Niger, Rwanda and Zambia) have respected this commitment. But even in these countries, universal access to quality health care still has not improved dramatically and the healthcare infrastructure does not respond to the needs of the population. Moreover, it must be highlighted that the focus should be on both improving healthcare availability and improving the quality and the processes of care.
While aiming for improvement, health system investments must be made by Goverments in all the following categories: health workforce, health infrastructure, medical products, service delivery, health governance, health enhancing and health information. Countries are spending an average of 60% of their health expenditures on tangible investments (health workforce, health infrastructure, and medical products) as compared to intangible ones. Within tangible investments, the highest spending of government funds is on medical products (39% of government spending), followed by the health workforce (14%). Only 7% of government expenditure is on infrastructure, which includes equipment and transport. A country with a good performing health system puts more emphasis on the health workforce (40% versus 14%) and infrastructure (33% versus 7%) compared to countries with less performing systems. Finding a similar pattern in other countries with good performing systems would suggest that the investment focus should shift to health workforce and infrastructure investments in order to build a sustainable healthcare system.
According to a UN article, approximately 1.6 million Africans died of malaria, tuberculosis, and HIV-related illnesses in 2015. These diseases can be prevented or treated with timely access to appropriate and affordable medicines, vaccines, and other health services. But less than 2% of drugs consumed in Africa are produced on the continent, meaning that many sick patients do not have access to locally produced drugs and may not afford to buy the imported ones.
Without local access to medicines, Africans are susceptible to the three big killer diseases on the continent: malaria, tuberculosis, and HIV/AIDS. Globally, 50% of children under five who die of pneumonia, diarrhea, measles, HIV, tuberculosis, and malaria are in Africa, according to the World Health Organization (WHO). The organization defines having access to medicine as having medicines continuously available and affordable at health facilities that are within one hour's walk of the population.
The African Pharmaceutical Market
Two thirds of global value of pharmaceutical products are produced in 5 main countries: USA, Japan, France, Germany and the UK, while Africa has an estimated 1% share of the world's pharmaceutical market. There is a huge dependence on imports for essential needs and medicine costs are a real burden on the population when they can afford to access them at all, as there is a nationwide low purchasing power due to widespread poverty.
With the notable exception of South Africa, most of the continent lacks the ability to locally produce any pharmaceuticals. Only 37 out of 54 African states have some level of pharmaceutical production (with almost completely overseas sourced components from countries such as India and China). The result is that less than 2% of drugs consumed in Africa are produced locally on the continent. Without easy access to medicines, Africans are defenseless to the three common killer diseases on the continent: malaria, tuberculosis, and HIV/AIDS. Globally, 50% of children under five who die of pneumonia, diarrhea, measles, HIV, tuberculosis, and malaria are in Africa, while Africans only represent 16% of the world population. Many medical treatment facilities only carry a few basic medicines such as pain killers and nothing else. - medical needs are focused on antibiotics and vaccinations which should be readly available in order to impove the population's health.
Due to the difficulties in accessing modern pharmaceutical medicines, many Africans resort to ritual and herbal remedies, commonly referred to as traditional medicine locally, which commonly result in ineffective treatments and not accessing medical care.
Even if a strong local pharmaceutical market would develop within the following years, there would be competition from the Indian manufacturers who already have a key position in the market. For instance, Africa imports 70% of its pharmaceutical products and India accounted for nearly 18% of the imports in 2011. African countries import up to 80% of the antiretroviral medicines used in HIV treatments, spending most of their resources on drug procurement. There is an acute need for political support from Governments and the African Union in order to develop and sustain local pharmaceutical production. Some progress has been made by Egypt, Morocco, South Africa and Tunisia with regards to pharmaceutical production. Morocco has recently become Africa's second-largest pharmaceutical manufacturer, closely following South Africa. It has 40 companies that produce pharmaceutical goods for both the national market and also neighboring countries. Ghana, Kenya, Nigeria and Tanzania are currently trying to make progress with regards to their drug production capacity.
But medicines procurement and costs are not the only problems related to medicines that African countries are facing. Alongside the shortage of resources, there is also a lack of skilled personnel resulting in sub-standard medical care and suboptimal use of medicines. Moreover, there is also a poor transportation system and a lack of appropriate storage facilies around the continent.
There is also a low capacity for pharmaceutical or scientific research and development.Between 1975 and 2004, only 1,3% of the 1556 new chemical entities were meant for use in tropical diseases, tuberculosis even though they account for 12% of the global disease burden, being a disease burden especially in the African region.
Overall, in order to improve the population's access to vital medication, local production needs to be stimulated by Governments and policies must be put in place to sustain a local pharmaceutical industry by investing in infrastructure and training of medical and pharmacy staff.
South Africa - another side of the African healthcare system
South Africa is not only first with regards to pharmaceutical manufacturing in Africa, but it has also managed to make medical advances and to even attract medical tourists seeking treatments. In 2015, between 300,000 and 350,000 patients from around Africa traveled to South Africa for medical treatment, as it is closer and easier to travel to, compared to India. Given the lower prices and the qualifications of the medical staff, patients from around the world come to South Africa for a wide range of procedures, from breast augmentation ($8,000 in the UK, compared to $3,600 in South Africa to fertility treatments (a third of the average cost for an American woman - around $4000 compared to $12, 400)
Essentially, the major healthcare issue in the African continent is primarily a lack of readily available medicines and affordability. The WHO notes that treating a child for malaria in Uganda with artemisinin combination therapy will cost a household the equivalent of 11 days' income. In Kenya, a seven-day treatment course of the commonly used ciprofloxacin antibiotic could cost a month's wages. While insurance is a solution, it should be noted that insurance policies cover less than 8% of the population of sub-Saharan Africa and do not cover prescription medicines on an outpatient basis.
Many cannot afford the very basic healthcare more readily available in other parts of the world. The majority of the population (about 80%) rely on public health facilities which suffer from chronic shortages of critical drugs, resulting in many patients dying of otherwise easily curable diseases if the appropriate medicines were readily available. According to the WHO, the reasons are lack of resources and shortage of skilled personnel. The organization adds that "low-income countries experience poor availability of essential medicines in health facilities, substandard-quality treatments, frequent stock-outs and suboptimal prescription and use of medicines". The continent suffers from an inefficient and bureaucratic public sector supply system that is often plagued by poor procurement practices that make drugs very costly or not available, at all. In addition, a poor transportation system, a lack of storage facilities for pharmaceutical products and a weak manufacturing capacity keep necessary drugs from being readily available where needed.
In summary, if commonly used medicines become more readily available, the continent's population would suffer less with their diseases and result in a longer life expectancy with a higher portion of the life span in good health. Some analysts believe that the continent's solution to improving patient access to medicine could lie in encouraging local production with incentives for investment, developing the proper policies and infrastructure, and training and retaining its healthcare workers.
If you enjoyed reading this article and wish to learn more about healthcare options around the world, please visit www.icloudhospital.com. CloudHospital is the global healthcare nexus on the web, easily accessible 24/7 and staffed with highly experienced professionals in the field of medical services access across the globe.