Samsung Medical Center Hits the 15,000 Mark in Gamma Knife Radiosurgeries
Last updated date: 18-Jul-2021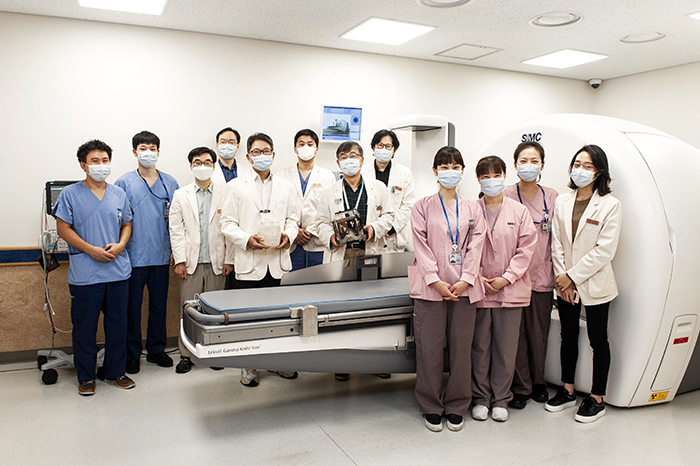 The Gamma Knife Center of Samsung Medical Center hits the 15,000 mark in gamma knife radiosurgeries, a first in Korea. More than 1,700 cases were recorded last year at the SMC and the figure is expected to surpass 1,800 this year.
Gamma knife radiosurgery is a highly effective and precise treatment that uses high-energy gamma rays and not a surgical knife, focusing on the lesions to treat patients with various neurosurgical diseases including brain tumor, cerebral arteriovenous malformation, and trigeminal neuralgia.
The gamma knife model named 'Icon' came to SMC for the first time in Korea in 2016, and the hospital upgraded the previous gamma knife equipment 'Perfection' model to the 'Icon' in 2018 to provide more comfortable and precise treatment. Therefore, the Gamma Knife Center now possess two units of the equipment.
The introduction of Icon facilitated fractionated radiosurgery with delivers the radiation in multiple doses over time without fixation of a stereotaxic apparatus. This has enabled surgeons to choose various radiosurgical techniques depending on the sizes and types of the tumor.
The center also provides programs to train medical staff from Korea and overseas in the use of the gamma knife as it was designated as an international training center under the agreement with Elekta, a manufacturer of gamma knife equipment. The center has also published more than 60 theses in the international journal, won six academic awards at international and domestic symposiums, and obtained seven patents and one intellectual property right for a computing program.