Self-examination Technique for Parotid Gland Cancer
Last updated date: 16-Jul-2021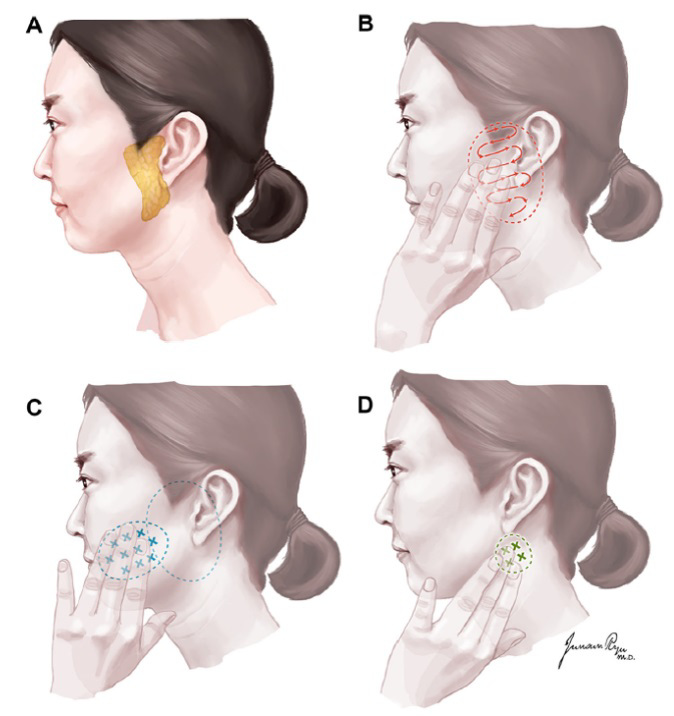 Research team led by Professor Jeong, Han Sin from the Department of Otolaryngology - Head and Neck Surgery at SMC and Professor Ryu, Joon Sun of National Cancer Center (NCC) presented a self-examination technique in the latest journal for BMC Cancer.
The published self-examination method starts by locating the parotid gland (see figure A) and palpate the gland carefully to detect any lumps (see figure B) and move towards the mouth angle and nostril (see figures C). Then palpate the area between the jaw bone and the ear (mastoid) bone to check for any lumps (see figure D).
The research team has recommended for any mass felt during the self-examination and present for more than 2 weeks to be examined by a specialist.
Salivary gland cancer along with parotid gland cancer is a rare disease occurring in 1.4-2.0 persons per 100,000 population. Due to the low occurrence rate, it attracts less attention leading to late detection with severe consequences which makes this type of cancer a great concern.
Professor Jeong, Han Sin has stated that the survival rate can be as high as 90 percent when the salivary gland cancer is detected early on. However, if the cancer is not detected in its early stages, it has a significantly poorer prognosis compared to other types of cancers. As this cancer occurs mostly in people in their 50s, it is crucial to check for lumps around the salivary glands and should immediately be seen by a specialist for any abnormalities.