Young Woman Suffering from Rare Bleeding Disorder Gives Birth to Healthy Baby
Last updated date: 17-Jul-2021
Najala Saeed, born with a bleeding disorder resulting from a protein deficiency, has defied the odds and gave birth to a healthy baby at Rambam Health Care Campus.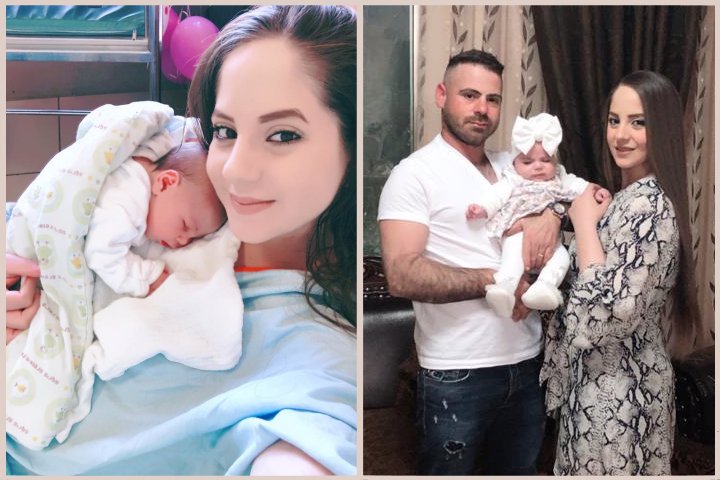 For the first time in recorded medical history, a young woman suffering from a rare bleeding disorder was able to give birth to a healthy baby with the assistance of an expert, multidisciplinary medical team at Rambam Health Care Campus. Najala Saeed, age 24, was born with an extremely unusual hereditary disease known as Factor VII deficiency. Her disease is homozygous recessive, which means that it was inherited from both parents, and the two gene alleles, one inherited from each parent, are defective.
Factor VII is a protein integrally involved in the blood clotting process. "Najala was born with a severe Factor VII deficiency, and as a result, she repeatedly experienced severe, life-threatening bleeding episodes, including bleeding into the brain when she was still an infant, and bleeding into her joints and soft tissue. Many of these episodes required hospitalization in order to stop the bleeding," explains Professor Yona Nadir, Director of Rambam's Hematology and Bone Marrow Transplantation Institute. It is the largest such facility in Israel, and the only one in the north.
Illness of this nature requires treatment with concentrated Factor VII, which Najala received every time she experienced a bleeding episode. During adolescence, she experienced further complications: at the onset of menstruation she experienced ovarian hemorrhaging – a dangerous, life-threatening situation that necessitated hormone treatment to suppress ovulation. In recent years, she began receiving regular treatments of concentrated Factor VII as a preventive measure, several times a week.
From a medical standpoint, the fact that Najala reached adulthood is a miracle in itself. "One in half a million babies is born with a certain level of Factor VII deficiency," says Dr. Ron Hoffman, Deputy Director of the Hematology and Bone Marrow Transplantation Institute and Director of Hematology Outpatient and Clinical Services. "By providing proper protein supplementation, these children can grow almost without interruption, but in Najala there is a complete lack of protein, which is a very rare condition."
Several years ago, Najala expressed a desire to give birth to a baby. In order to become pregnant, she had to stop taking the medication she received to suppress ovulation, thus exposing her again to the risk of ovarian hemorrhages. After two early miscarriages, she eventually became pregnant and in December 2019, gave birth at 41 weeks to a health baby girl after receiving massive doses of concentrated Factor VII to limit bleeding during contractions and childbirth.
The fear for Najala's life did not end in the delivery room, but rather two days later, when her uterus began to contract without significant bleeding. Only then could the doctors breathe a sigh of relief - and admit that Najala is a medical miracle.
"I cried so much," shared Najala, her voice full of emotion. "I told everyone I could not believe I had succeeded; I did not believe I was alive. I did not believe I was a mother. I did not believe that this miracle happened to me, but it happened and it is miraculous. No one believed it passed so peacefully."
This is the first case described in the world's medical literature in which a patient with severe homozygous Factor VII deficiency successfully completed a full-term pregnancy and had a normal birth without bleeding issues. Najala's care was directed by Dr. Hoffman, who worked in close consultation with Professor Nadir and physicians from Rambam's Obstetrics and Gynecology Division. "The chance of a woman without the Factor VII protein succeeding in pregnancy and reaching a healthy birth is almost nil," Dr. Hoffman notes. "We have never encountered such a case before."
Today, a year and two months after the birth, Najala is in the middle of another pregnancy, and promises that this time, too, it will end with success. "In my first pregnancy I did not know what would happen to me, and I was afraid. This time I am not afraid," she says, "If I succeeded once, why should I not succeed again?"